Gisteren was het nog allemaal redelijk duidelijk, maar nu zijn ze het er bij de NASA gelijk niet meer over eens: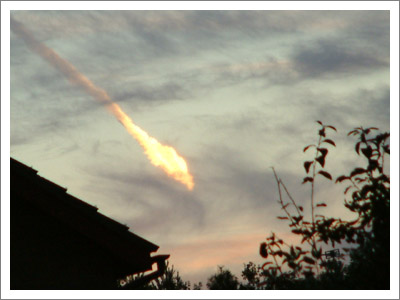 An Unusual Event Over South Wales
Credit & Copyright:
Jon Burnett
Explanation:
Jon Burnett, a teenager from
>South Wales,
>UK, was photographing some friends
>skateboarding last week when the sky did something very strange.
By diverting his camera, he was able to
>document this rare sky
event and capture one of the more spectacular
sky images yet recorded.
Roughly one minute later, he took
>another picture of the dispersing trial.
What is it? Experts disagree. The first guess was
a sofa-sized rock that exploded as a daytime
fireball, but perhaps a
better hypothesis is an unusual airplane contrail reflecting the
setting Sun.
Bright fireballs
occur over someplace on Earth nearly every day.
A separate bolide,
likely even more dramatic,
>struck India only a few days ago.