woensdag 21 maart 2012 in Sonstiges. Permanente link | Eén reactie
Er mag al nekeer gelachen worden é meneer.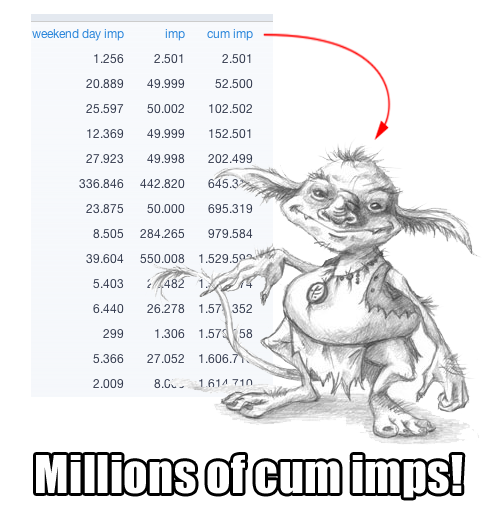 zaterdag 10 maart 2012 in Sonstiges. Permanente link | Geen reacties
Ik ben stekejaloers op Stephen Wolfram's datavisualisaties. En ik had vroeger data over vanalles (muisbewgingen! toetsaanslagen! programma's gebruikt!), maar sinds ik op allerlei verschillende computers allerlei dingen doe, is het allemaal wat verwaterd.
Mijn mail, die heb ik in principe nog tot ergens in 1994, maar waar precies de mails van 1994 tot 2004 staan: ik zou er eens heel erg hard naar moeten zoeken.
Ik kan wél gemakkelijk dingen over dit weblog te weten komen, 't is toch altijd dat. En ik heb geen Mathematica bij de hand liggen, maar uiteindelijk is er met een paar databasequeries en een gewone spreadsheet ook redelijk wat te visualiseren.
Zoals wanneer ik dingen geschreven heb, de afgelopen tien jaar. Elk puntje is een post, de X-as geeft de jaren weer en de Y-as de uren (klik voor detail):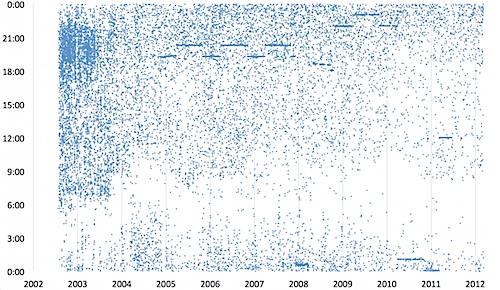 In 2002-2003 waren er heel veel korte postjes van een paar zinnen, vaak als ik voor de televisie hing. In 2004 heb ik een jaar in mijn trekzetel geleefd. Vanaf midden 2009 zat ik vaak in Zaventem te werken bij Sony, wat 's morgens anderhalf uur of meer trein en bus betekende, en dus geen internet. In 2010 ben ik in Gent komen werken, en werd mijn leven wat regelmatiger.
De horizontale strepen zijn automatische posts van links die ik verzamelde (eerst op delicious, daarna op pinboard).
[Om de grafiek te maken, trouwens, vooropgesteld dat het WordPress is dat achter uw weblog zit: in mysql select date(post_date), time(post_date) from wp_posts where post_status='publish'; doen, het resultaat daarvan in Excel plakken en een scatterplot maken met datum in X-as en tijd in Y-as.]
Met nog minder moeite is het mogelijk om te zien wanneer ik op uurbasis gemiddeld post: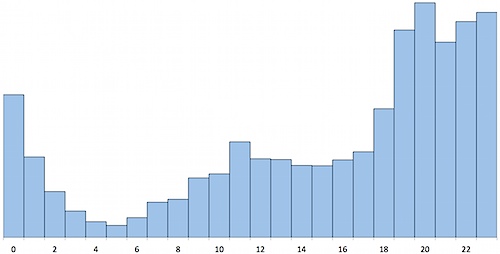 [select time_format(post_date,'%H'), count(id) from wp_posts where post_status='publish' group by extract(hour from post_date);]
…of per minuut: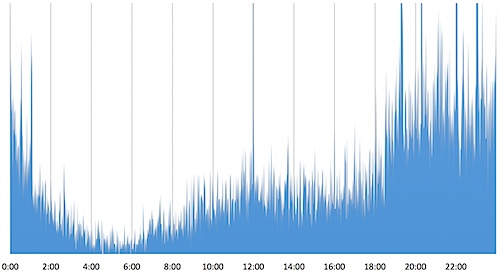 [select extract(hour_minute from post_date), count(id) from wp_posts where post_status='publish' group by extract(hour_minute from post_date)]
(Ik heb hierboven wel de waarden afgekapt wegens dat die automatische posten van delicieus/pinboard het anders vertekenden: )

Post ik meer tijdens de week of in het weekend? Euh nee, niet echt: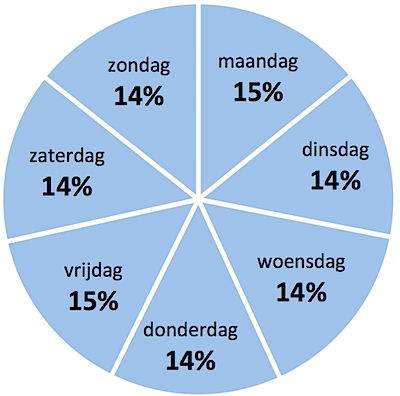 [select date_format(post_date,'%W'), count(id) from wp_posts group where post_status='publish' by date_format(post_date, '%W');]
Is er misschien een verschil in uren, afhankelijk van de dag in de week? Nee, ook niet echt heel erg duidelijk (rood is meer schrijven, groen is minder schrijven):

select date_format(post_date,'%W'), time_format(post_date,'%H'), count(id) from wp_posts group by date_format(post_date, '%W'), time_format(post_date, '%H'); en dan een pivot table maken, en conditional formatting op de cellen (en de cijfers in de cellen number formatting " ", wat ze dus doet verdwijnen, ha!).
Of als ik toch bezig ben met van die heatmapachtige dingen: het aantal flickr-foto's dat ik per week post? Waarmee het meteen duidelijk is dat ik sinds een tijd minder foto's online zet, en ook dat de week met foto's uit Marokko redelijk veruit de week met de meeste foto's ooit was:

De cijfers hierboven zijn er van uitgaand dat ik voor zover ik weet praktisch nooit naar Flickr verwijs tenzij naar mijn eigen foto's: select year(post_date), week(post_date), sum((length(post_content)-length(replace(post_content,'flickr.com','')))/length('flickr.com'))/2 from wp_posts where post_status='publish' group by year(post_date), week(post_date);.
En met dezelfde ruwe teltechniek: over welke kinderen spreek ik, opgeteld per maand?

Of: aantal woorden per post? (Ervan uitgaand dat er ruwweg evenveel woorden als spaties in een tekst staan.)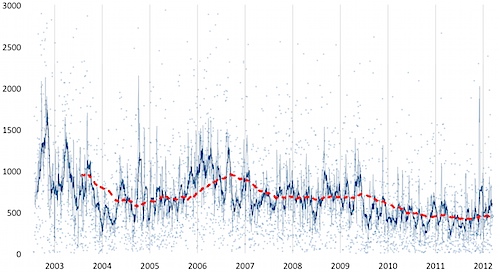 De puntjes zijn de individuele posts, de lichtste lijn is een gemiddelde per week, de donkere lijn een gemiddelde per maand, en de rode stippellijn het gemiddelde op jaarbasis bekeken.
Afijn ja.

maandag 23 mei 2011 in Links. Permanente link | Geen reacties
Social Games vs Multiplayer Games: A Commentary on Raph Koster's Social Mechanics Presentation
I thought that since I'm not at GDC, it might be interesting to write a review-from-afar. I looked at the core of his ideas, many of which center around cooperative gameplay, then raised questions over whether they were appropriate to the social game space. Below, I suggest some alternatives that may have been missed in the presentation, and finally I ask whether social games have a next level of sophistication to them at all.
Weatherspark: Gent
infoporn!
Augmenting a Live Talk with Overhead Projector Style Infographics – information aesthetics
MAYA Design CEO Mickey McManus has recently demonstrated the power of using subtly animated infographics during a live TEDx talk. While the talk on "Information Liquidity" is already mind boggling by itself, the short visual interruptions that merge sophisticated illustrations with the concept of old-school overhead projectors (or maybe they represent the prototypes of next-gen thin film computers…) is quite an original approach to keep the audience engaged
A Week on Foursquare
We collected every check-in on location-sharing service Foursquare for a week starting at noon Eastern on Friday, Jan. 21 until noon on Friday Jan. 28. Foursquare, which provided the data, removed all material that could identify an individual user.
vrijdag 25 maart 2011 in Links. Permanente link | Geen reacties
World Science Festival Video : Spotlight: Do Not Touch the Frog
Strip away the trimmings of a traditional science presentation, add cocktails, and you have WSF Spotlight. Here, ecologist and National Geographic photographer Mark Moffett recounts his unexpectedly hilarious expedition to a remote valley in Colombia to document an elusive and highly poisonous "superfrog."
ChessBase.com – Chess News – French Chess Federation suspends players accused of cheating
On Saturday, March 19, the Disciplinary Committee of the French Chess Federation suspended GMs Sebastien Feller, Arnaud Hauchard and IM Cyril Marzolo, finding them "guilty of a violation of sporting ethics". The Committee concluded that there was enough evidence that the three players had cheated during the Olympiad in Khanty-Mansiysk that took place in September 2010. The 19-year-old GM Sebastian Feller, rated 2649, played extremely well at the Olympiad, winning the gold medal on board five with a score of 6/9 and a performance of 2708. Arnaud Hauchard was the French team captain in Khanty-Mansiysk.
TK TYPE > Chartwell
Chartwell is a family that explores the use of OpenType to interpret and visualize data. The font format is highly portable and can be used in most applications that support ligatures. The data also remains editable allowing for easy updates.
ShadyURL – Don't just shorten your URL, make it suspicious and frightening.
Ayup.
Capture Moments The Miniature Way With Mame-cam Dx Micro Camera – Designbuzz
Designed by Tokyo based Thanko, this petite camera has been tagged at 99 USD and is very handy and versatile. Resembling a black battery, it merely weighs 14 grams with 1.8 x 1.1 x 0.4 inches (45 x 29 x 10 mm) dimensions and uses micro SD/SDHC cards for storing stuff. Capturing all the minute details is this 8-megapixel piece of equipment with a jpeg resolution of 3264 x 2448p which can be effortlessly coupled via USB 2.0. Well, its features don't end here, this small magic box not only makes you click still images but also makes you able to record HD-videos. Videos made through Mame-cam dx have a resolution of 1280 x 960p.
"When It's Not Your Turn": The Quintessentially Victorian Vision of Ogden's "The Wire" « The Hooded Utilitarian
There are few works of greater scope or structural genius than the series of fiction pieces by Horatio Bucklesby Ogden, collectively known as The Wire; yet for the most part, this Victorian masterpiece has been forgotten and ignored by scholars and popular culture alike. Like his contemporary Charles Dickens, Ogden has, due to the rough and at times lurid nature of his material, been dismissed as a hack, despite significant endorsements of literary critics of the nineteenth century. Unlike the corpus of Dickens, The Wire failed to reach the critical mass of readers necessary to sustain interest over time, and thus runs the risk of falling into the obscurity of academia. We come to you today to right that gross literary injustice.
vrijdag 11 maart 2011 in Links. Permanente link | Geen reacties
vrijdag 28 december 2007 in Sonstiges. Permanente link | Geen reacties
Stond al een week of twee te wachten in mijn feedreader, maar dat maakt niet uit: het ontstaan van de aarde, verteld door een wetenschapper in de stijl van godsdienst, en door een godsdienstige (for lack of a better term) in infografieken.
Magnifiek.
dinsdag 12 december 2006 in Computers en dingen. Permanente link | 10 reacties
Ik geef het toe: ik word er een beetje kregelig van, als ik zoiets lees van "met welk programmaatje hebt gij dat gemaakt". Dat is voor mij de andere kant van de zo mogelijk nog meer irritante vaststelling "PowerPoint zuigt".
It's a poor workman who blames his tools, zeggen ze, en ze hebben daar overschot van gelijk in. Een min of meer leesbare grafiek maken, heeft weinig of niets te maken met het programma waarin de grafiek gemaakt wordt.
Gegeven een lijst van gegevens in ongeveer deze vorm, die ik met een query uit de WordPress-database gegenereerd heb en dan geopend in Excel (2007, maar dat doet hier niets ter zake):
| | | | | | |
| --- | --- | --- | --- | --- | --- |
| post_date | posts | comments | postlength | words | length/post |
| 02/07/2002 | 415 | 36 | 192918 | 35726 | 86 |
| 03/07/2002 | 544 | 100 | 295672 | 54754 | 101 |
| 04/07/2002 | 645 | 116 | 360288 | 66720 | 103 |
| 05/07/2002 | 428 | 85 | 209634 | 38821 | 91 |
Stap één, de kolommen geselecteerd waarin ik geïnteresseerd ben en insert > line chart gedaan. Dat geeft iets in deze zin (alhoewel: ik heb hier al twee van de drie lijnen op één as gezet, en één op de andere as):
…en dan kan een mens zich gaan uitleven in de Mogelijkheden Van Het Programma. Zoiets bijvoorbeeld:
Woohoo! Groots! 3D! Spectaculair! Onleesbaar! Nutteloos!
Nee, ik ben helemaal een gelover in de Tufte School of Infographics: haal alles weg dat niet absoluut noodzakelijk is, en wees zo eerlijk als mogelijk in het voorstellen van de gegevens.
En daar heb je helemaal geen speciaal tool voor nodig, gewoon wat minimale kennis van om het even welk programma waarin je werkt. In mijn geval is dat Excel 2007, maar het had even goed een oudere versie van Excel kunnen zijn, of Illustrator, of voor mijn part Openoffice.org calc.
Stap één: overbodige kleur weghalen. In het ideale geval en als het missiekritisch is, betrouw ik niet op kleur: een redelijk percentage van de volwassen mannen zijn kleurenblind, niet iedereen heeft een kleurenprinter, kleuren hebben een intrinsieke emotionele waarde, etc., etc.
Hier: de achtergrond weggehaald (deed niets te zake), aantal posts en lengte per post in dezelfde kleur gezet en onderscheiden door het soort lijn (discutabel, ik weet het).
Stap twee: overbodige lijnen weghalen. Al die kaders en de lijnen op de assen, brengen die eigenlijk informatie aan? Nee, niet echt. Dus ze mogen weg. De gridlines, die brengen wel informatie aan, maar ze storen omdat ze te nadrukkelijk aanwezig zijn. Dus die mogen in een lichter grijs komen te staan.
Zo. De grafiek is nu wel heel erg gecomprimeerd in de breedte, dus heb ik ze nog wat uitgerekt. Eens ze uitgerekt was, heb ik de data op de Y-as anders geformatteerd (jaar maand, vertikaal ipv dag/maand/jaar, schuin), en heb ik nog vertikale gridlines toegevoegd ook, dat ik gemakelijker kan zien in welke maand iets gebeurt. En om duidelijk te maken welke lijnen op welke as gevolgd moeten worden, heb ik de labels van de assen dezelfde kleur gegeven als de lijnen.
Dat geeft dan dit:
…enfin ja, om maar te zeggen: het tool maakt dus écht niet uit. Koop dit en dit en dit en ge zijt vertrokken.