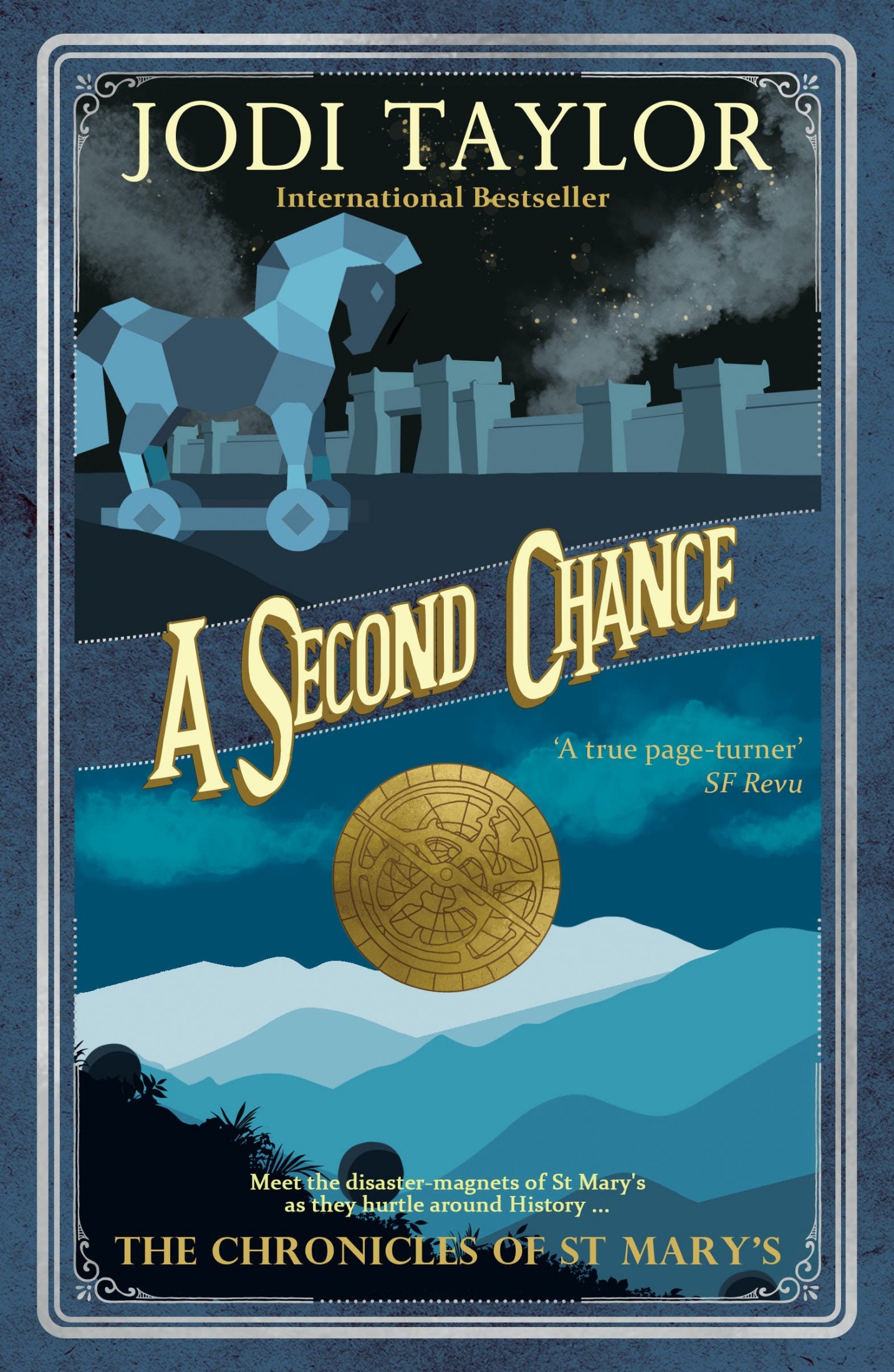 Egads. Ze gaan zich écht serieus mogen beginnen haasten met goéd te worden, de Chronicles of St. Mary's-boeken, want dit is er alweer een dat mij onnoemelijk op de zenuwen heeft gewerkt.
Het is alweer een geval van avontuurtje na avontuurtje: ze gaan naar Isaac Newton (die een moderne spiegel ziet en uiteindelijk ook steelt, en daarmee wellicht een revolutie in de optica teweegbrengt — wéér zo'n geval van dingen in het verleden opfucken). Daarna gaan ze naar een kaasrolding in Gloucester, en dan gaan ze naar Troje.
Opnieuw totaal ongeloofwaardig, en wel om een groot aantal verschillende redenen.
Om te beginnen: Homerus wordt volledig letterlijk genomen. Elk individueel personage, van Helena over Paris en Hector en Priam tot en met alle helden bij de Grieken, blijken bij dezen écht bestaan te hebben. Geen mens ter wereld gelooft dat. Zelfs de méést van de historiciteit van de Ilias overtuigde historicus denkt niet meer dan dat de kern van de Ilias een grond van waarheid bevat: dat er ergens op het einde van de Myceense beschaving een coalitie van een aantal kleine Griekse staten de stad Troje zouden belegerd hebben. En dat daar dan in de loop van de eeuwen stapels en stapels mythen en sagen rondgeplamuurd zijn. En dat zijn de mensen die het meest van die historicitiet overtuigd zijn. Niémand ter wereld gelooft dat al die mensen letterlijk zo hebben bestaan.
Bovendien: ze reizen met hun stenen-huizen-teletijdmachines naar binnen de stadswallen van Troje zelf. Niet met één machine maar met zes. In een stad die, voor de goede orde, zo'n 30 hectare groot was. Om het even aanschouwelijk te maken, 30 hectare is wat er binnen deze cirkel ligt. Kleiner dan de kuip van Gent: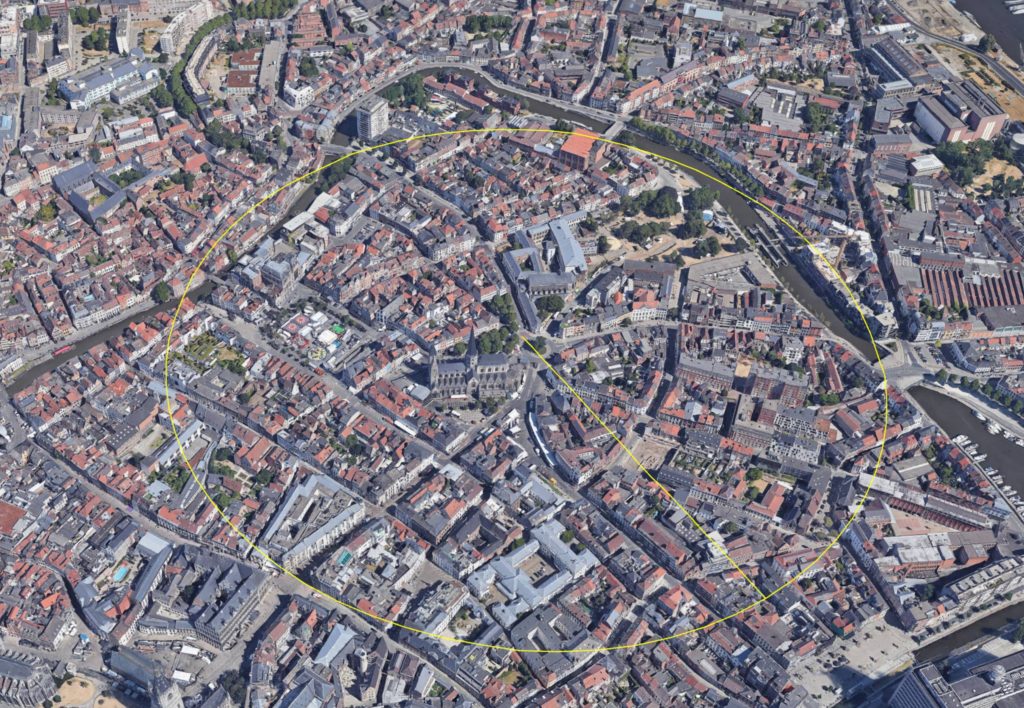 En daar zouden van de ene week op de andere plots zes min of meer identieke volledig stenen huizen in verschijnen. Pakweg twee meter hoog, pakweg minstens twee meter op drie. In een stad die er zó zou uitgezien hebben: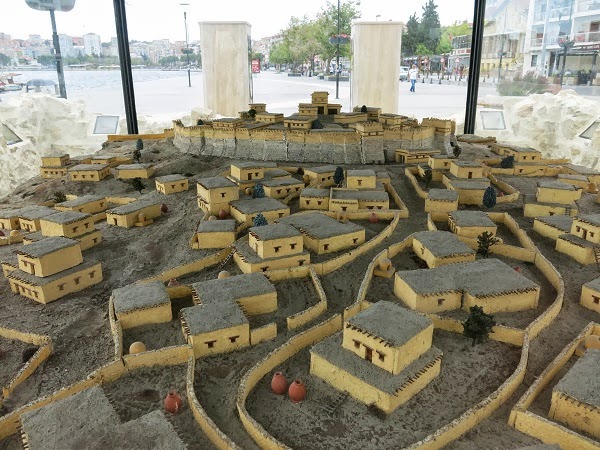 Gedurende maanden en maanden bewoond door mensen die allemaal een halve meter groter zijn dan de rest van de inwoners, en die geen van allen welke taal dan ook spreken die wie dan ook begrijpt.
Neen.
Sorry, maar: neen. Suspension of disbelief gaat zó ver, maar niet verder.
Ach ja, en dan maken ze het einde van Trojaanse Oorlog mee (het Paard is niet één paard maar een kudde met ziekte besmette paarden, ho hum), en is er –ja, opnieuw, alwéér– een totaal onrealistisch conflict tussen zogezegd geliefden-voor-het-leven Max en Leon. Leon wil een kind dat zonder enige twijfel binnen de kortste keren dood zou gemaakt worden, redden.
Okay, laat ons even logisch nadenken. Als dat kind hoedanook zeer binnenkort dood zou gaan, maakt het niet uit of het écht doodgaat dan wel verdwijnt. Als het wél iets zou uitmaken, zou De Geschiedenis (of welk ook het mechanisme is dat uit het niets rotsblokken uit de hemel laat vallen om mensen tegen de houden de Tijdslijn te veranderen) ingrijpen.
Maar neen, Max kiest dit moment om een principiële positie in te nemen:
How could he do this? How could he put me in this position? How dared he make me the one who had to condemn this little boy to death? And I would. Make no mistake about it. I would. I wouldn't like it, but if I had to, I would do it.
Waarop de andere:
'Max, you can't. You're condemning him to death. Or worse. You can't just abandon him. You've saved people before.'
En zij:
They say women don't know how to say no. In fact, men have been saying that for centuries. That when women say no, they mean yes. Well I've got news for you, busters …

'No.'

No more. No less. No explanations. No reasons. No excuses. Just say: 'no'.
En het gaat verder:
'He won't last the night. You're sending him to his death. If he's lucky. Look at him. He's not old enough to be a slave. They'll take him on a boat, use him on the voyage home, and then toss him overboard as they make land. That's what you're condemning him to.'

'No.'

'Max, I'm begging you. Even if he survives tonight, Troy isn't going to be safe for years. Do you know what life here is going to be like?'

Of course I did.

'No.'

'Max, I've never asked you for anything, but I am now. I just want to find him somewhere safe.'

There was nowhere safe for Helios. And if I didn't stop this, there would be nowhere safe for any of us.

'No.'

His voice cracked in desperation. 'I'm begging you. Please. Just save this one person. Just save Helios.'

'No.'

The finality in my voice must have got through to him. He tightened his grip and planted his feet. The challenge was unspoken, but it was there.

'I'm second in charge at St Mary's. I can order you …'

And I was mission controller.

I crossed to a locker, pulled out a handgun, and slapped home a clip.

'Open the door, Chief, and put him outside.'

'You …' he stared. Shock, betrayal and hurt all chased each other across his face. 'I can't believe you would …'

I raised the gun.

'Open the door, Chief, and put him outside. Do it now, please.'

'So that's it, is it? It's all right when you pick soldiers out of the mud or a woodcutter out of the snow? But for everyone else …?'

I said nothing. I wouldn't debate this.

'You … bitch.'

Yes, Leon, that's what you've made me.

'You heartless, hypocritical bitch! I can't believe … you'd leave this boy to die. This is Helios, for God's sake. You gave him chocolate. You played hopscotch with him. You have a chance to save him and you're telling me to just turn him out? Out there? Do you actually know what's happening out there? Or are you so caught up in History and yourself that you're too stupid to notice? Well, I'm not you, thank God. I won't do it. Shoot me if you dare.'
Enfin goed, de kleine wordt buitengesmeten, ze keren terug naar hun tijd, en dan:
That night, I partied harder than I ever had in my entire life.

I drank. I ate. I drank. I danced. I drank.

Markham and I participated in the infamous tray race and nearly broke our necks.

My attempt to drink a yard of ale nearly drowned Miss Prentiss.

Kal and I sang "Blow the Man Down" in a way that gave sea-shanties a bad name.

I caught Guthrie or Peterson looking at me occasionally, so I smiled, waved, and partied even harder. I knew that if I never spoke of it then they wouldn't either. I'd lifted the incriminating tape from the pod's internal security system and destroyed it. If Guthrie noticed the gap, he never said anything.

No one ever knew what Leon Farrell had tried to do. I didn't write him up. That was the most I was prepared to do for him.

We never spoke directly to each other again in this life. We communicated through com links or third parties. I avoided him if I could. I never forgave him.

Whenever he looked at me, his eyes were ice-blue and empty. He never forgave me. I should have been devastated but I wasn't. I was buoyed up on a wave of righteous anger. That he, of all people, could have tried to do such a thing was almost past belief. And so I took my rage and my fury and I nursed them. I could never forgive the man who had forced me to choose between him and my job.
Jaja. En dan zijn we nog maar in de helft van het boek.
Het volgende avontuurtje is dat ze erop uit trekken naar Afrika, om die ene uittocht uit Afrika te gaan bekijken die de voorouders zijn van alle mensen die nu niet-Afrikaans zijn.
Ze wachten een tijdje, en dan zien ze uiteindelijk de mensen die de exodus gaan doen. En dan gebeurt dit:
The line of rafts began to separate. Either because the lines had snapped or they were being cut so that if one sank, it wouldn't take the others with it.

Men and women shouted incomprehensibly. Panic was beginning to spread. The convoy was breaking up. One raft began to float away. There were children on it …

They still had some way to go to shore. They weren't going to make it. This crossing was going to be as unsuccessful as all the others.

I felt a kind of despair. They'd come so far. They'd so nearly made it. They deserved to make it. Surely we could do something. We had ropes. We could help.

I scrambled to my feet in the sand.

Peterson pulled me back down again.

'Where do you think you're going?'

'Rope. We can help.'
'No, we can't.'

'Tim, for God's sake …'

'No, you can't, Max. Not this time.'

'They're not going to make it. We must do something. This is one of the most significant events in human History.'

'And that's why we can't interfere. Not this time. Don't you see? It's far too important. If we interfere we're changing all of human History.'

I struggled against him.

'Stop it,' he said sharply. 'I'm not letting go and you'll just hurt yourself.'

'Tim, these people are dying.'

'Then they're meant to. You know that. You're an historian, Max. You've got away with a lot in the past and you probably will again in the future. But not today.'

'Let me go, Mr Peterson. Now.'

'No,' he said, simply.

'I'm ordering you …'

'No.'

'Tim …'

'I'm not doing it, Max, so give it up.'

I was still struggling. We were kicking sand everywhere but he held me in a grip of iron. I had no idea he was so strong.

'They're dying out there. '

'And we'll be dying here if I let you go.'

'They're our ancestors. They're us. What is the matter with you?'
Het ik-personage, voor de duidelijkheid, in dit en het vorige citaat, zijn hetzelfde. Hier zorgt ze er gewoon voor dat alle mensen in de hele wereld die niet Afrikaans zijn kunnen bestaan.
En dit is niet een hele reeks boeken verder, waar het personage eventueel zou gegroeid kunnen zijn en alles — dit is ÉÉN FUCKING HOOFDSTUK LATER.
Was ik het niet op mijn telefoon aan het lezen, het boek was tegen de muur gesmeten.